Congregation B'nai Jacob is a warm, welcoming Conservative congregation in the heart of Woodbridge, Connecticut. Located five miles from Yale University, Congregation B'nai Jacob has proudly served our community for 135 years. We serve a diverse community through our engaging and participatory services, our cutting edge, award-winning religious school, our wide array of stimulating educational opportunities for families and adults, and our commitment to social justice. We hope you will check us out – for an hour or a lifetime!
---
Gospel Shabbat Service
and Shabbat Dinner
Friday, January 18
6:30 pm Shabbat Service with Gospel Choirs
Serving a traditional catered Shabbat dinner. $25/adult, $18/child. RSVP required.
Please consider sponsoring one or more of our choir guests for dinner.
To RSVP for the dinner, SIGN UP AND PAY ONLINE or send a check before Tuesday, January 15.
The Valley Soul and Shoreline Soul Gospel choirs, under the direction of the incomparable Angela Clemmons, will join with Cantor Kanfer and the Sweet Singers of B'nai Jacob for a special Martin Luther King Day service. Ms. Clemmons has worked as a professional singer for over 35 years, including as a background singer with Aretha Franklin, Michael Jackson, Justin Timberlake, Celine Dion, Steely Dan, Cyndi Lauper, Elton John, and many others.
Join in what promises to be a wonderfully spiritual communal event.
---
---
Screening of the Movie "Marshall"
and Discussion with Preston Tisdale
Sunday, January 20 • 4:00pm
Watch a special screening of this major film about the collaboration between a young Thurgood Marshall and a Jewish lawyer to defend an innocent black man in Bridgeport in 1940, against a backdrop of segregation and anti-Semitism.
Atty. Preston Tisdale, associate of screenwriter Michael Koskoff,, will lead a discussion of the film. Mr. Tisdale is a former Director of Special Public Defenders for CT, and his father was an important member of the Bridgeport African-American community in the 1940's, attending the trial and hearing Marshall speak. Gain a unique perspective on America's Civil Rights history.
No RSVP necessary.
---
---
Shir Hadash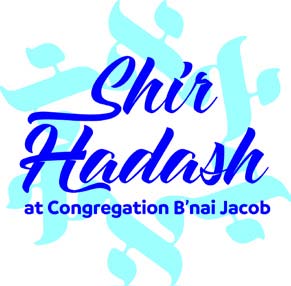 Join us for a soulful, prayerful, songful Shabbat experience.
Saturday, January 19 at 10:00 am
February 9, March 16, April 13, May 18
Challah Baking
Wednesday, January 30 at 6:20 pm
(after evening minyan)

Leslie Zackin and Dana Schwartz will demonstrate two ways to prepare your dough: hand kneading and using a standing mixer with a dough hook. Home baked challah is a real treat and much easier than you might think!
RSVP by Jan. 25 to 203-389-2111 or cbj.receptionist@gmail.com. No fee to participate but an $18 donation to BJ Kiddush Fund is suggested.
CBJ Cooks Shabbat Dinner

6:00 pm Shabbat Schmooze
6:30 pm Kabbalat Shabbat
7:30 pm Shabbat Dinner
Enjoy a Shabbat with a dinner prepared, with love, by congregants, in the
CBJ kitchen
.
The chair for this dinner is Jodi Seidner. Contact Jodi at fortytoes@optonline.net w/ questions about volunteering or attending this event.
$25/person
NEW! B'nai Jacob Book Group
First meeting Wednesday, February 20
in the B'nai Jacob Library at 7:30pm
Join in a discussion of
"If All the Seas Were Ink
," by Ilana Kurshan.
This memoir about a young woman's study of Talmud ties in nicely with the Rabbi's Monday evening class, Reading the Talmud.
"In this deeply personal and often hilarious story, Kurshan shows us how the Talmud's thousands of strange and demanding pages…become a conversation about how best to live one's life." Dara Horn
This memoir is a tale of heartache and humor, of love and loss, of marriage and motherhood, and of learning to put one foot in front of the other by turning page after page. Kurshan takes us on a deeply accessible and personal guided tour of the Talmud, shedding new light on its stories and offering insights into its arguments—both for those already familiar with the text and for those who have never encountered it. For people of the book—both Jewish and non-Jewish—
If All the Seas Were Ink
is a celebration of learning—through literature—how to fall in love once again.
Future books and dates will be decided by the group.
---
Rabbi Rona Shapiro
Rabbi Rona Shapiro named among "America's Most Inspiring Rabbis," the annual list compiled by The Forward.
Learn more about this prestigious national honor:
Article from The Forward
Article from The Connecticut Jewish Ledger
Connect
Congregation B'nai Jacob
75 Rimmon Road
Woodbridge, CT 06525
(203)389-2111
Office Hours:
Monday - Thursday
8:30am - 5:00pm
Friday
8:30am - 3:00pm
Sun, January 20 2019
14 Shevat 5779
Sun, January 20 2019 14 Shevat 5779