Congregation B'nai Jacob is a warm, welcoming Conservative congregation in the heart of Woodbridge, Connecticut. Located five miles from Yale University, Congregation B'nai Jacob has proudly served our community for 135 years. We serve a diverse community through our engaging and participatory services, our cutting edge, award-winning religious school, our wide array of stimulating educational opportunities for families and adults, and our commitment to social justice. We hope you will check us out – for an hour or a lifetime!
---
Shabbat Dinner
in memory of Pat Rogovin

For years Pat lovingly oversaw our Shabbat dinners, always making sure that the food was delicious and the table beautiful, enhancing our Shabbat experience. We never dreamed that we would have to forge on without her so very soon.

Please join us for this dinner in her memory. We are looking for sponsors for the dinner. Please consider joining us as a sponsor.
Friday evening, March 23
Shabbat Schmooze at 6:00pm
Shabbat Ruach Service at 6:30pm with the Choir
Dinner at 7:30pm

Serving a traditional Shabbat dinner menu, with a vegetarian option, $25 per person.
To RSVP, please sign up and pay online, or send a check before Wednesday, March 21.
---
---
Shir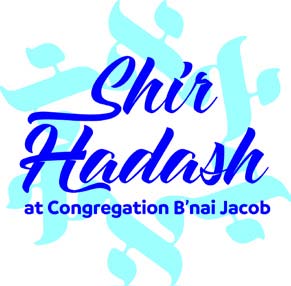 Hadash
.
A songful, prayerful, soulful service led by Cantor Kanfer and Rabbi Shapiro. Our intent is to use the power of our music and the kavanah of our words and hearts to make God's presence manifest.
9:00-10:00 am Shir Hadash, followed by a mini Kiddush
10:15 am Torah service
---
Rabbi Rona Shapiro
Rabbi Rona Shapiro named among "America's Most Inspiring Rabbis," the annual list compiled by The Forward.
Learn more about this prestigious national honor:
Article from The Forward
Article from The Connecticut Jewish Ledger
Connect
Congregation B'nai Jacob
75 Rimmon Road
Woodbridge, CT 06525
(203)389-2111
Office Hours:
Monday - Thursday
8:30am - 5:00pm
Friday
8:30am - 3:00pm
Sat, March 24 2018 8 Nisan 5778