Congregation B'nai Jacob is a warm, welcoming Conservative congregation in the heart of Woodbridge, Connecticut. Located five miles from Yale University, Congregation B'nai Jacob has proudly served our community for 135 years. We serve a diverse community through our engaging and participatory services, our cutting edge, award-winning religious school, our wide array of stimulating educational opportunities for families and adults, and our commitment to social justice. We hope you will check us out – for an hour or a lifetime!
---
Shabbat Spaghetti Supper
Shabbat with a FRESCA approach!
Friday, January 19, 2018
Join us for a pasta dinner prepared by congregants in the CBJ kitchen after Shabbat services on Friday, January 19th.
$10 adults
$5 kids ages 4-12
Kids 3 and under are free
When we cook together, anything is PASTA-ble!
---
Shir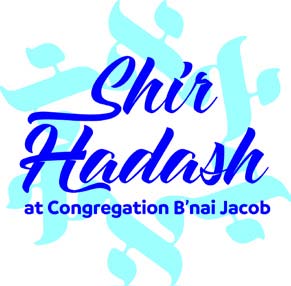 Hadash
.
Saturday, January 20, 2018
songful, prayerful, soulful service led by Cantor Kanfer and Rabbi Shapiro. Our intent is to use the power of our music and the kavanah of our words and hearts to make God's presence manifest.
9:00-10:00 am Shir Hadash, followed by a mini Kiddush
10:15 am Torah service
---
Walk in the Woods
By popular demand, we will keep walking throughout the winter as best we can!
Our next walk is: Saturday, February 24 at 1:15pm right after kiddush
We will meet at the entrance to the Blue Trail, behind the church in Woodbridge Town Center. Dress warmly for a prayerful, meditative walk!
---
Rabbi Rona Shapiro
Rabbi Rona Shapiro named among "America's Most Inspiring Rabbis," the annual list compiled by The Forward.
Learn more about this prestigious national honor:
Article from The Forward
Article from The Connecticut Jewish Ledger
Connect
Congregation B'nai Jacob
75 Rimmon Road
Woodbridge, CT 06525
(203)389-2111
Office Hours:
Monday - Thursday
8:30am - 5:00pm
Friday
8:30am - 3:00pm
Sun, January 21 2018 5 Shevat 5778