Congregation B'nai Jacob is a warm, welcoming Conservative congregation in the heart of Woodbridge, Connecticut. Located five miles from Yale University, Congregation B'nai Jacob has proudly served our community for 135 years. We serve a diverse community through our engaging and participatory services, our cutting edge, award-winning religious school, our wide array of stimulating educational opportunities for families and adults, and our commitment to social justice. We hope you will check us out – for an hour or a lifetime!
---
This Saturday is Shir Hadash &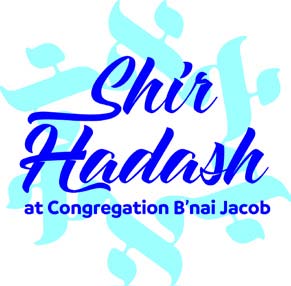 Volunteer Shabbat
All B'nai Jacob volunteers will be honored and CELEBRATED! Please come to be acknowledged for all the amazing things
you helped us accomplish this year.
Saturday, May 18
9:00 am Shir Hadash Service
10:00 am Mini Kiddush
10:30 am Torah Service Honoring Volunteers
12:00 pm Special Kiddush
---
Adult Ed Guest Speaker
This Sunday morning we welcome noted Israeli educator,
Rachel Korazim
Messages from Sinai - Learnings from Auschwitz
How Israeli Poetry Shapes Israeli Society through the Influence of the Bible and the Holocaust
Rachel is a freelance Jewish education consultant in curriculum development for Israel and Holocaust education. She engages audiences worldwide through innovative presentations built around the stories, poems and songs of Israel's best writers. Her thought-provoking talks open a window onto Israeli society, inviting listeners to engage with the country and its history in new ways.
Rabbi Shapiro says, "Rachel will take you on a journey through Israeli poetry, music, and history and by the end, you will be weeping. An extraordinary educator."
Sunday, May 19
Minyan at 9am, followed by a light breakfast and Talk at 10am.
---
Group Book Discussion
Monday, June 17

in B'nai Jacob Library at 7:00pm
Join in a discussion of
"A Tale of Love and Darkness,"
by Amos Oz
A family saga and a magical self-portrait of a writer who witnessed the birth of a nation and lived through its turbulent history. A Tale of Love and Darkness is the story of a boy who grows up in war-torn Jerusalem, in a small apartment crowded with books in twelve languages and relatives speaking nearly as many. The story of an adolescent whose life has been changed forever by his mother's suicide. The story of a man who leaves the constraints of his family and community to join a kibbutz, change his name, marry, have children. The story of a writer who becomes an active participant in the political life of his nation.
Discussion will be led by Betty Lou Blumberg.
Future books and dates will be decided by the group.
RSVP to 203-389-2111 or cbj.receptionist@gmail.com
---
Rabbi Rona Shapiro
Rabbi Rona Shapiro named among "America's Most Inspiring Rabbis," the annual list compiled by The Forward.
Learn more about this prestigious national honor:
Article from The Forward
Article from The Connecticut Jewish Ledger
Connect
Congregation B'nai Jacob
75 Rimmon Road
Woodbridge, CT 06525
(203)389-2111
Office Hours:
Monday - Thursday
8:30am - 5:00pm
Friday
8:30am - 3:00pm
Sun, May 19 2019
14 Iyyar 5779
Sun, May 19 2019 14 Iyyar 5779