Judaica Gift Shoppe
The Gift Shoppe at Congregation B'nai Jacob provides one of the largest selections of Judaica items available in New Haven County. The Gift Shoppe offers a wide collection of Judaica from Israeli and American artists to ensure that your Judaica needs are met for all holidays, simchas and special occasions.
All items needed for your Bar and Bat Mitzvah are available. Tallit are in stock, many handmade and direct from Israel! We carry many beautiful wedding gifts including the ceremonial wedding glass! Unique hostess gifts and a large selection of jewelry from talented artisans make wonderful gifts for any occasion. We also have a large selection of Mezuzot, baby gifts and specialty holiday items for children.
Hours:
The Gift Shoppe is open during Religious School hours throughout the school year. We are also open each day during the school year. Please call the synagogue office 203.389.2111 for specific hours. For the summer months, please call the synagogue office and a Gift Shoppe volunteer will be thrilled to meet you at your convenience!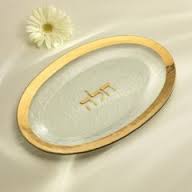 Tue, September 26 2017 6 Tishrei 5778